Go to product information
From Hasbro 's FurReal Friends line here is the novelty for Christmas 2022. It's Cinnamon, the stylish pony . It's a delightful interactive pet with over 80 realistic sound effects and reactions. Inside the package, the little girl will find lots of accessories to take care of her pony, thanks to the irons to apply to the legs or the flower crown to give her a beautiful hairstyle. He will also have an apple that he can use both to feed him and to brush him thanks to the 2 in 1 function. Cinnamon reacts to touch, his face lights up and moves his ears when you stroke him.
Cinnamon interactive soft toy
Cinnamon is the new star of FurReal Friends. A very feature-rich interactive pony, never seen before.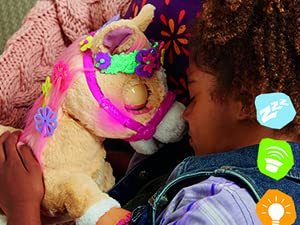 FurReal Friend Cinnamon
Caress your Pony FurReal Friends and find out how he can best interact with you. His cheeks light up and he neighs like a real horse .
Cinnamon Blog Article
On the brand new Hasbro Cinnamon product from the FurReal Friends line we have worked on a blog article that you can read for further information.
READ THE ARTICLE
Reviews
I bought this toy at my daughter's request, Cinnamon is a really cute pony and performs all the functions highlighted in the description, honestly I expected more, however, given the price .

Teresa a.